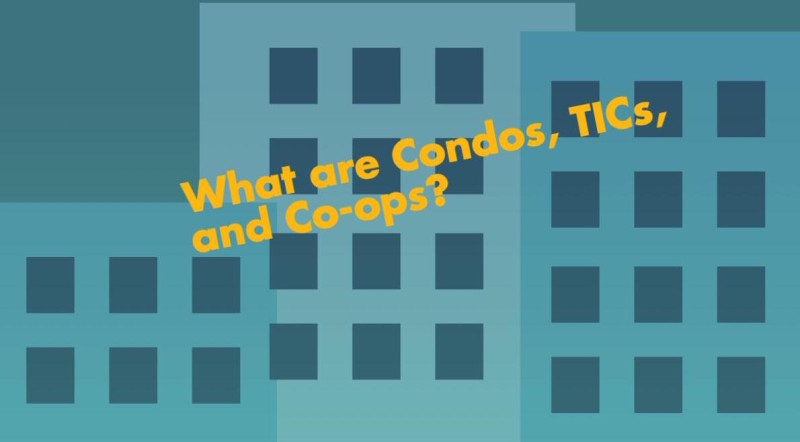 What's the difference between a condo, a TIC, and a co-op? No doubt you've heard of each of them but if you are like most people, you're not sure about the specifics.
Generally speaking, if you are looking to buy a place to live in San Francisco (and it's not a single family house) then you are probably talking about one of these three forms of ownership.  Since these are forms of ownership and not styles of construction, you can't tell these buildings apart by physically looking at them. Here are the primary differences in how they each work:
A condo is the most common form of ownership. When you buy a condo, you own one particular unit in a building. You'll have title to the unit plus you have rights to a use the common areas. In a condo, you'll pay a monthly homeowners association fee, and you'll need to abide by rules & regulations (called CC&Rs). Condos can be financed with conventional mortgages (think 30 year fixed rate loans issued by major banks). Most banks that issue mortgages will loan on a condo as long as it meets their underwriting criteria.
A tenancy-in-common (aka. TIC) is a hybrid form of ownership where you own a percentage of a multi-unit building. TICs came about as a way for people to be able to band together to buy property relatively affordably in otherwise expensive cities.  As a TIC buyer, you'll have rights to live in one unit in the building. Just like a condo, you pay a monthly fee and can use the common areas. In a TIC, the rules and regulations of ownership are spelled out in a TIC agreement. Major banks do not loan on TICs (because there is no secondary market where they can sell the loans to other banks). Financing is therefore more expensive and less attractive than condos. There are a few smaller banks around the Bay Area that offer TIC loans. They often charge a fee to complete the loan, the interest rate is often much higher than a conventional condo loan, and the rate is often locked for a shorter period than conventional financing.  Down payment requirements are often higher than for condos. Although TIC owners each have their own mortgage, this form of ownership does come with some additional risk, primarily surrounding payment of property taxes and potential default by a co-owner. The TIC agreement does address the risk to some degree however buyers should be fully aware of the details before buying a TIC.  The upside is that the purchase price for a TIC is almost always considerably less expensive than a comparable condo.
A co-op (aka. cooperative) is a building owned by a private corporation. It is basically an elite gated community. When you buy in to a co-op, you are purchasing shares in the corporation. You'll pay a rather hefty monthly fee for rights to live in one unit. Buyers must first be interviewed by the board of directors (ie. other owners) for approval. The interview process generally requires buyers to provide personal financial details for review. The board may accept or reject buyers for any reason. Like TIC financing, terms for co-op financing are less attractive than conventional condo financing and the number of banks that will issue loans are limited. Co-op buildings tend to be well maintained (because they usually have substantial amounts of cash in the bank). Co-ops do not allow rentals, so purchasing one as an investment property is not an option. Like condos and TICs, co-ops may have shared common areas as well as rules and regulations governing what owners can and cannot do.
—
This is just a quick summary of the differences in these forms of ownership. I've sold all of these types of properties and am happy to discuss the specifics with you.  You can find me anytime at 415-971-5651.